2011 Red Maple Young Readers' Choice Award Page
This page is designed to be of interest to Red Maple Award participants who want to find out more about
Only in the Movies.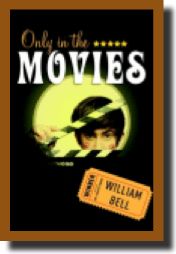 The "Battle of the Beaks." Meet Vanni O'Riada (Quicktime audio)
William Bell reads from Act Two, page 35.
FAQ about Only in the Movies
IS THERE ANYTHING DIFFERENT ABOUT THIS NOVEL?


For me, yes. Although I try to put some humour into almost all my stories,
Only in the Movies
is my first full-out comedy. The greatest novelty to be found in this book is probably Jake's little screenplays. Jake wants to write for the movies, and sometimes, when he's thinking about something--like falling in love with Alba, or asking one of the great romantic actors of the past, Humphrey Bogart, for advice--he'll imagine or write a screenplay on that topic. These vignettes were a bit risky: I was pretty sure the reader would follow them, but there's always the danger that the reader will find the screenplays interrupt the story line. I think they work, but you'll have to decide for yourself.
Another departure for me was using the work of other writers--after changing it around a lot--in my story. I made sure I used only dead writers so they wouldn't complain. To me it seemed appropriate in a love story (albeit a comic one) to use pieces of others' great romantic works as building blocks in my narrative--not just copying them, but playing off them in what I hope is a humorous way. For example,
Romeo and Juliet
is a tragedy, but Jake makes fun of it in his little screenplay.
Cyrano de Bergerac
gets all twisted around and stood on its head. And so on. I didn't fool around with "Araby" though.


DID ANY OF THE BOOK'S EVENTS HAPPEN TO YOU? ARE THE CHARACTERS BASED ON PEOPLE YOU KNOW?


None of the events happened to me as described, although I confess to falling in love when I was a teenager and stumbling through the whole dating thing like an elephant in a ballet. The characters, not including the ones from books written by others (like William Shakespeare) are all invented. If questioned closely I might admit that Mr. Locheed is similar to a teacher I once had.
The York School of the Arts is fictional, too.


WHAT WAS YOUR GREATEST CHALLENGE IN WRITING THIS NOVEL?


I admit that I abandoned this project half a dozen times--or I thought I did. I would get frustrated trying to fit all the bits of plot together and tell myself that the story line was not worth pursuing and that the scenes just weren't working out. But it kept calling me back. Finally I had enough faith in the tale to see it through to the end.
Losing confidence in the story, or in oneself, is not unusual among writers. It's something we struggle with continually.


IS WRITING A COMEDY EASIER THAN WRITING A SERIOUS BOOK?


It's probably not productive to compare books in these terms. Each novel has it challenges and difficulties when it comes to the writing. But there is a widespread attitude that, because humorous books are funny, they're basically trivial and easy to write. In fact, the opposite is the case. Creating a funny scene is very hard. There's a very good essay about this topic, written by a famous Canadian humourist from long ago. Stephen Leacock wrote "Humour as I See It" in response to comments that writing funny stories must be easy. It's a very entertaining essay which can be found here: www.online-literature.com/stephen-leacock/further-foolishness/17/ But be careful, Leacock is being ironic in the opening of the essay. Irony is a great source of humour.
The essay contains a great deal of truth, and Leacock said it all much better than I ever could.


WHAT ROMANTIC COMEDIES OR OTHER WORKS INFLUENCED YOUR WRITING OF THIS BOOK?

Casablanca
, one of the great (old) romantic movies of all time--a tear-jerker, not a comedy. It's still available on DVD, and if you're really interested, you can download the screenplay at www.vincasa.com/indexscreenplay.html

Rostand's Cyrano de Bergerac
, a play which combines tragedy with comedy.

Shakespeare's Romeo and Juliet
, a tragedy--or so they say. I've always thought of it as a comedy.

Shakespeare's The Taming of the Shrew
, a comedy.
Joyce's "Araby," a non-comic short story.


IS IT HARD TO WRITE A SCREENPLAY?


I'm no expert in this area, but I'd say it's no harder than writing short stories, plays, poetry, or novels. Like all forms of writing, screenplays are developed according to conventions. The screenplays in
Only in the Movies
follow the format for screenplay writing very closely, so you could use them as a model if you want to try your hand at creating your own. Or you could download
Casablanca
from the website noted above. A good book to start with is Syd Field's
Screenplay: The Foundations of Screenwriting
.



Other William Bell books that have been nominated for the Forest of Reading Program in the past:

Zack
Red Maple, 1999

Stones
Red Maple, 2002

The Blue Helmet
White Pine, 2008