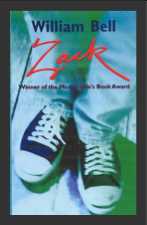 WINNER OF THE MR. CHRISTIE'S BOOK AWARD


"Look, let's get this straight. I admit I misled you. I confess I'm responsible for smashing up the truck. But I'm not sorry I went to Mississippi."
Uprooted by his parent's move to the outskirts of a small town, friendless and at the lowest point of his life, Zack undertakes research into the life of Richard Pierpoint, former African slave, soldier of the American Revolution as well as the War of 1812, and the pioneer farmer who cleared the land on which Zack's house now stands. Pierpoint's story inspires Zack to go to Mississippi to search for his grandfather. What he discovers shakes the foundations of all he once believed.


Browse and Search this book
FAQ


WHERE DID YOU GET THE IDEA FOR THIS STORY?
As I said in the acknowledgments of the book, the idea for Zack came from a song called "Pawpine," written by James Gordon of the folk group, Tamarack. The song quickly sketches most of what's known of Richard Pierpoint's story. I liked the song, so I asked my son Dylan to work out the chords for me so I could sing it (to myself) with my guitar. I found the story very moving, and I wanted find out more about this remarkable African, so I started looking into his past.
As often happens with writers, an idea grows into a story. From the beginning, I didn't want to write a novel about Pawpine, but I wanted to create a story that was inspired by him. Zack is the result.

DID ANY OF THE STORY HAPPEN TO YOU?
No.
Zack's trip to Mississippi is informed by my own travels on the Natchez Trace.
On a deeper level, some of what happens to Zack is racially based. I experienced a certain amount of that in my travels in China, where a few people have a prejudiced view of foreigners.

ARE ANY OF THE CHARACTERS BASED ON PEOPLE YOU KNOW, OR ON OTHER PEOPLE?
No. I don't put people I know into my books.

WHAT WAS YOUR GREATEST CHALLENGE IN WRITING THIS NOVEL?
If you've read Zack you know that underneath the story-line there is a sub-text that deals with what many call racism. Writing about racism while avoiding cliché and a kind of non-thinking, knee-jerk reaction is very difficult. And when including this topic in a story, it's very easy to let the issue dominate and control the story--a disaster for any good novel. That's why Zack's family background is not revealed at the beginning of the novel. It's also why the racial identity of the two cops is not revealed; after all, it's not relevant to the scene. (Many assume that the cops are white--the kind of cliché thinking I mentioned above.) There are a number of people in this story whose attitudes on race could do with an overhaul. But Zack is first and foremost a tale of a young man's efforts to find his roots.

IS ANY OF THIS STORY BASED ON REAL EVENTS?
Aside from the historical material about Pawpine, no.