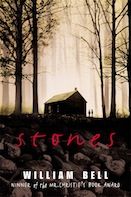 WINNER OF THE CANADIAN LIBRARIANS' ASSOCIATION YOUNG ADULT BOOK OF THE YEAR

MANITOBA YOUNG READERS' CHOICE HONOUR BOOK

"It was Ms. Clare who first noticed there was something wrong with me."
Garnet Havelock knows what it's like to be on the outside, not one of the crowd. Now, in his final year of high school, he's just marking time, waiting to get out into the real world. Then a mysterious girl transfers to his school and Garnet thinks he might have found the woman of his dreams--if only he could get her to talk to him.
Eventually he succeeds, and at the same time, he becomes caught up in a mystery centered in his own community. As he and Raphaella draw closer to the truth, they uncover a horrifying chapter in his town's history.


If you liked
Stones
, you'll be happy to know this: Garnet and Raphaella return in a new story called
Fanatics
.
Browse and Search this book


FAQ

WHERE DID YOU GET THE IDEA FOR THIS BOOK?

This is one of those cases where it's very hard to trace the story idea back to a particular point. I had been thinking about setting another tale in the Orillia area, and I settled on the African Methodist Church as the place where a lot of the action would occur. But the characters of Hannah and Garnet had been in my head for some time before that. Luckily, things came together one day when I was driving past the church, so, after at least a year of thinking, I was able to begin the novel.

DID ANY OF THE EVENTS HAPPEN TO YOU? DID YOU BASE YOUR CHARACTERS ON PEOPLE YOU KNOW?

None of the events happened to me. There is a certain amount of local history in the tale, used as a foundation. As for the characters, none is directly based on anyone I know. I say "directly" because people I know or knew sometimes influenced my characters.

WHAT WAS YOUR GREATEST CHALLENGE IN WRITING THIS NOVEL?

Stones was difficult to write. Sometimes a story, once begun, flows along pretty smoothly, but in this case there was a lot of thrashing around as I tried to shape the narrative. I don't know why things happen this way, but they do. So the greatest challenge was blending Garnet's story with Raphaella's and Hannah's. I think when you've finished reading the book you'll know what I mean.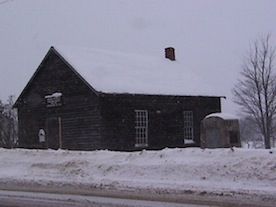 The African Methodist Church

On the right is the monument that Garnet crashed into. To the left is the intersection of the Old Barrie Road and the 3rd concession line.

How do you get to the African Methodist Church? Here are two handy maps:

Where is Oro?
Where is the church?

Thanks to Robin Godin for the maps.